Vase Turning w/ David
07/09/2023 10:00 AM - 12:00 PM CT
Admission
Summary
Small vase turning refers to creating a vase out of a block of wood that is roughly 3"x3"x12".  During the class students will acquire intermediate skills to mount the piece in different orientations and accurately bore out the inside of the vase.  This class is intended for those students who have taken Introduction to the Wood Lathe and wish to expand their skill set. (completed vase in walnut shown)
Description
Small vase turning refers to creating a vase out of a block of wood that is roughly 3"x3"x12". During the class students will acquire intermediate skills to mount the piece in different orientations and accurately bore out the inside of the vase. This class is intended for those students who have taken Introduction to the Wood Lathe and wish to expand their skill set. (completed vase in walnut shown)
After completing this class students should be able to:
Properly mount material to the lathe, first between centers then after forming a tenon remount that tenon in a chuck

Shape the outside of the vase

Drill / bore the inside using a forstner bit and gouge

Sand and apply finish

Part off the vase from tenon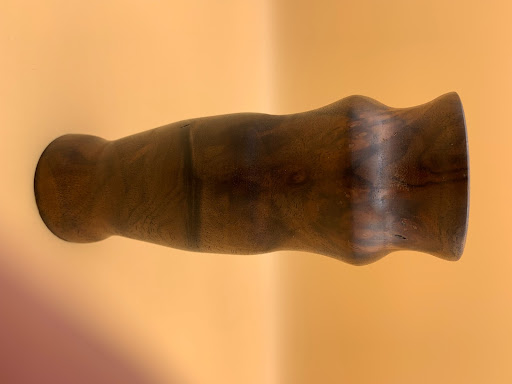 Please note:
Attendees must wear comfortable, closed toe shoes and wear clothing that you do not mind getting covered in wood shavings. Loose clothing with strings or long jewelery is not recommended. If you have long hair it must be tied back. A face shield will be provided but please bring eye protection. A dust mask is optional but not provided.